Why K2C?
NONE of these items are for sale.
This is a private collection.

In late 1994, I listened to Kome Kome Club for the first time. My husband and I had rented some J-Pop music videos from a local store in Little Tokyo (Los Angeles). We rented their 1989 live concert, entitled "Kick Knock", and I was amazed with the band's musical dexterity and elaborate costumes. Kome Kome Club's sound cannot be easily defined, since they play all different types of music... from Funk, Pop, Rock, Rap, Do-Whop, Enka, Okinawan, Classical... to downright silly. Usually, the band gets really funky when J.O. arrives - the flamboyant Kome God who struts around like a Japanese James Brown. Lead singer Carl Smoky Ishii is an incredibly gifted man, who designed all of the band's costumes. He also designed their unusual stage layouts, and given credit for applying makeup on everyone.



Carl Smoky Ishii and Rudy Valentino.
After watching "Kick Knock", I wanted to track down more Kome Kome Club footage. That was a difficult task, because very few Japanese video stores carried their videos. Personally, I think some stores were really surprised to see two gaijins renting Japanese music. Next, we rented all of the Kome Kome Club CDs from J-Wave video store. We placed orders with alt.ant (for those of you who remember) to get our hands on more Kome Kome Club concerts on laser disc. The sweet ladies at Bunkado helped me track down CDs and singles to purchase. We were elated to track down as much as we did. Later, I was sad to find out that Kome Kome Club broke up in 1997. My dream of attending one of their fun shows never realized. However, I love listening to their unique music. Carl Smoky Ishii has gone solo since the breakup, and I'm a fan of his music as well.



"I am Funky Star..."
Over the years, we have amassed a great deal of Kome Kome Club music, performances and collectibles. We happily purchased books Asahiya and Kinokuniya Bookstores, as well as bought many items from Yahoo! Japan. We found some "gems" at Book-Off in Gardena, which specializes in used books, CDs and videos. To this day, I continue to look for unusual items... like "riceman" collectibles and album release promos. Our site was created to reach out to English-speaking fans of Kome Kome Club, and celebrate the band's positive impact. Their eclectic music continues to influence our lives, especially in the realm of costuming and stage performance.

---
These Kome Kome Club galleries visited
times since 8/30/03
Free counters provided by Andale.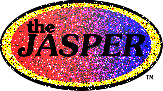 Copyright 2005 David Ramsay and Kimberly J. Ramsay. All rights reserved.
"The Japanese Animation Super Premier Entertainment Review" ,
"the J.A.S.P.E.R." and "theJASPER" logo are trademarks of David Ramsay, 1998~2005.
David "Z-RAM" Ramsay and Kimberly "Hikaru-chan" J. Ramsay acknowledge the
copyright holders of materials contained herein and do not seek to infringe on their rights.
Reproduction in whole or in part without permission is prohibited.
"Kome Kome Club", "K2C," and any images portraying characters from
any of the mentioned group © SONY Music Entertainment (Japan), Inc.
First uploaded August 30, 2003 by: Kimberly J. Ramsay