The Last Symposium Collectibles
Gallery Two
NONE of these items are for sale.
This is a private collection.
Here are images of original Kome Kome Club collectibles... some of them are a bit strange, but very cool. They are difficult to come by, especially if you don't live in Japan. Kome Kome Club collectibles can be mainly found on Japanese Internet auctions. Japanese language.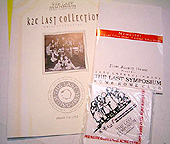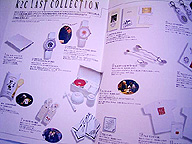 The Last Symposium "K2C Last Collection" Program.
Look at all the cool stuff one could buy for Kome Kome Club's last tour!
---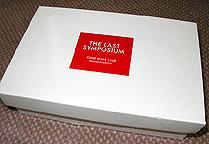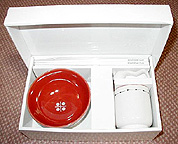 The Last Symposium Tea and Rice Bowl Set.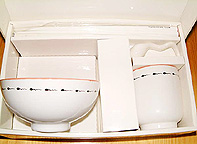 Note the ceramic sperm chopstick rest.
---


The Last Symposium Key Chain.
---




The Last Symposium Pumice Board.
Don't confuse your penis with a pumice board.
---


The Last Symposium Rice Spoon.
---
---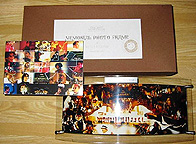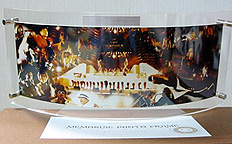 The Last Symposium Memorial Photo Frame.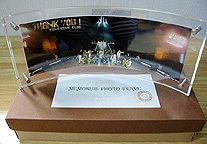 This attractive frame is for panoramic photos.
---
K2C Band Members
James Onoda: ONODA YASUHIDE - Vocal
Carl Smoky Ishii: ISHII TATSUYA - Vocal
Bon: OHKUBO KENSAKU - Bass Guitar
Flash Kaneko: KANEKO TAKAHIRO - Saxaphone
Minako: ISHII MINAKO - Vocal, Dance
Toshi: TAKAHATA TOSHIO
Kawai Wakaba: KAWAI WAKABA (B.H.B.) - Trombone
Orita Nobotta: ORITA KOHJI (B.H.B.)
Himarayan Shimogami: SHIMOGAMI TATSUYA (B.H.B) - Trumpet
Fussy Kobayashi: KOBAYASHI FUTOSHI (B.H.B.)
be: HAYASHIBE NAOKI
Mataro: MISAWA MATARO
Machiko: SUGAKI MACHIKO
Juliano Katsumata: KATSUMATA RYUICHI
Kohtaro: TAKESHITA KOHTARO
Shinji: YOSHIURA SHINJI
Mari: AMAGAYA MARI - Vocal, Dance
RYO-J: SAKAGUCHI RYOJI - Drums
Joplin Tokunoh: TOKUNOH RITSURO - Guitar
Sweet Sue: MATSUI SATOMI
Maru: MARUYAMA TATSUO
Hakata Megumi: SAKAMOTO TAKUJI
Special Guest
BATTLARTS
Yuki Ishikawa
Katsumi Usuda
Takeshi Ono
Daisuke Ikeda
Satoshi Yoneyama
Alexander Otsuka
---
Please select from one of the two Galleries below:

---
These Kome Kome Club galleries visited
times since 8/30/03
Free counters provided by Andale.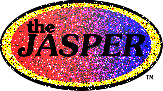 Copyright 2005 David Ramsay and Kimberly J. Ramsay. All rights reserved.
"The Japanese Animation Super Premier Entertainment Review" ,
"the J.A.S.P.E.R." and "theJASPER" logo are trademarks of David Ramsay, 1998~2005.
David "Z-RAM" Ramsay and Kimberly "Hikaru-chan" J. Ramsay acknowledge the
copyright holders of materials contained herein and do not seek to infringe on their rights.
Reproduction in whole or in part without permission is prohibited.
"Kome Kome Club", "K2C," and any images portraying characters from
any of the mentioned group © SONY Music Entertainment (Japan), Inc.
First uploaded August 30, 2003 by: Kimberly J. Ramsay