H2O
1996
NONE of these items are for sale.
This is a private collection.
Here are images of original Kome Kome Club Albums, 45s, CDs and CD Singles. They are difficult to come by, especially if you don't live in Japan. Kome Kome Club music can be mainly found on Japanese Internet auctions, sometimes eBay Auction. Japanese language.



H2O CD (Released March 21, 1996).
SONY RECORDS SRCL 3478
¥ 2,800
Promotional version w/lenticular cover; not for sale.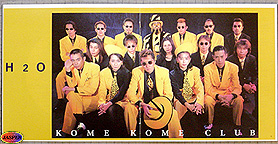 ---
Play List
1. XXXXX *
2. STYLISH WOMAN *
3. IMITATION GUY *
4. XXXXX *
5. EASTER BELL NORTH *
6. KISSING BLUE
7. SOUL SNAKE *
8. Slow-motion Memories
9. JUST MY FRIEND *
10. XXXXX *
11. XXXXX *
* = personal favorite
---


Wonderful Sunday '95 Asahi Super Dry CD Single (Released April 21, 1995).
SONY RECORDS SRDL 4004
¥ 500


Just My Friend c/w XXXXX CD Single (Released May 21, 1995).
SONY RECORDS SRDL XXXX
¥ XXX


XXXXX c/w XXXXX CD Single (Released July 24, 1995).
SONY RECORDS SRDL 4050
¥ 800


Stylish Woman c/w XXXXX CD Single (Released March 1, 1996).
SONY RECORDS SRDL XXXX
¥ XXX
---
K2C Band Members
ONODA YASUHIDE - Vocal, Chorus
ISHII TATSUYA - Vocal
OHKUBO KENSAKU - Bass
KANEKO TAKAHIRO - Keyboards, Saxaphone
Minako: KENAKO MINAKO - Vocal
AMAGAYA MARI - Percission
KAWAI WAKABA - Trombone, Saxophone
SHIMOGAMI TATSUYA - Trumpet
ORITA KOHJI - Saxophone
KOBAYASHI FUTOSHI - Trumpet
HAYASHIBE NAOKI - Guitar
MISAWA MATARO - Pecussion, Chorus
SUGAKI MACHIKO - Chorus
TAKAHATA TOSHIO - Drums
TAKESHITA KOHTARO - Chorus
KATSUMATA RYUICHI - Keyboards
YOSHIURA SHINJI - Chorus
Additional Musicians
YAGI NOBUO - Harmonica
ARIGA NOBUO - Keyboards
KUZUBA MASAO - Keyboards
HONDA MASATO - Saxophone
KINBARA STRINGS - Strings
HASHIMOTO SHIGEKI - Synthesizer Operation

---
These Kome Kome Club galleries visited
times since 8/30/03
Free counters provided by Andale.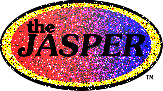 Copyright 2005 David Ramsay and Kimberly J. Ramsay. All rights reserved.
"The Japanese Animation Super Premier Entertainment Review" ,
"the J.A.S.P.E.R." and "theJASPER" logo are trademarks of David Ramsay, 1998~2005.
David "Z-RAM" Ramsay and Kimberly "Hikaru-chan" J. Ramsay acknowledge the
copyright holders of materials contained herein and do not seek to infringe on their rights.
Reproduction in whole or in part without permission is prohibited.
"Kome Kome Club", "K2C," and any images portraying characters from
any of the mentioned group © SONY Music Entertainment (Japan), Inc.
First uploaded August 30, 2003 by: Kimberly J. Ramsay